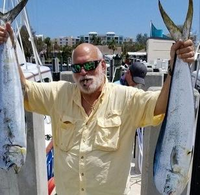 Benjamin Jay Bishkoff
Benjamin Jay Bishkoff, 76, passed away peacefully Monday evening, May 30, 2022 at his Highland Beach, Florida home.
Born and raised in Newark, NJ, had also lived in Iselin, Edison, and Bradley Beach, NJ before coming to Florida 11 years ago.
Mr. Bishkoff served in the US Navy during the Vietnam War. A "Tin Can Sailor," he was initially stationed at Pearl Harbor, and then was assigned to the USS Renshaw and served throughout the Pacific Theatre. His expertise was in electronics, and during his tenure he operated the Underwater Fire Control System (for anti-submarine warfare), and was lead Sonarman on his ship. Following his enlistment, he served an additional ten years in the US Naval Reserves.
Mr. Bishkoff was a partner of FPA Inc., (now FPA Katchen, LLC) Life Insurance Brokerage Agency in Bridgewater. He was with the agency for 50 years preceding his retirement.
Survivors include his devoted wife of 30 years, Norma (nee Greenbaum) Bishkoff; three loving sons, David Bishkoff, Steven Bishkoff and his wife, Tracy, and Brian Bishkoff and his wife, Susan; two dear step-children, Jeffrey Lupowitz and his wife, Dara, and Stephanie Koren and her husband, Jonathan; his cherished sister, Jane Cantor and her husband Jeffrey; and four beloved grandchildren, Alison Bishkoff, Josh and Jared Koren, and David Lupowitz. He was preceded in death by his brother, Charles Bishkoff.
Graveside services will be held on Thursday, June 2, 2:00pm at Mount Lebanon Cemetery, Gill Lane, Iselin, NJ. For those so desiring, memorial gifts can be made to Pancreatic Cancer Action Network (www.pancan.org).