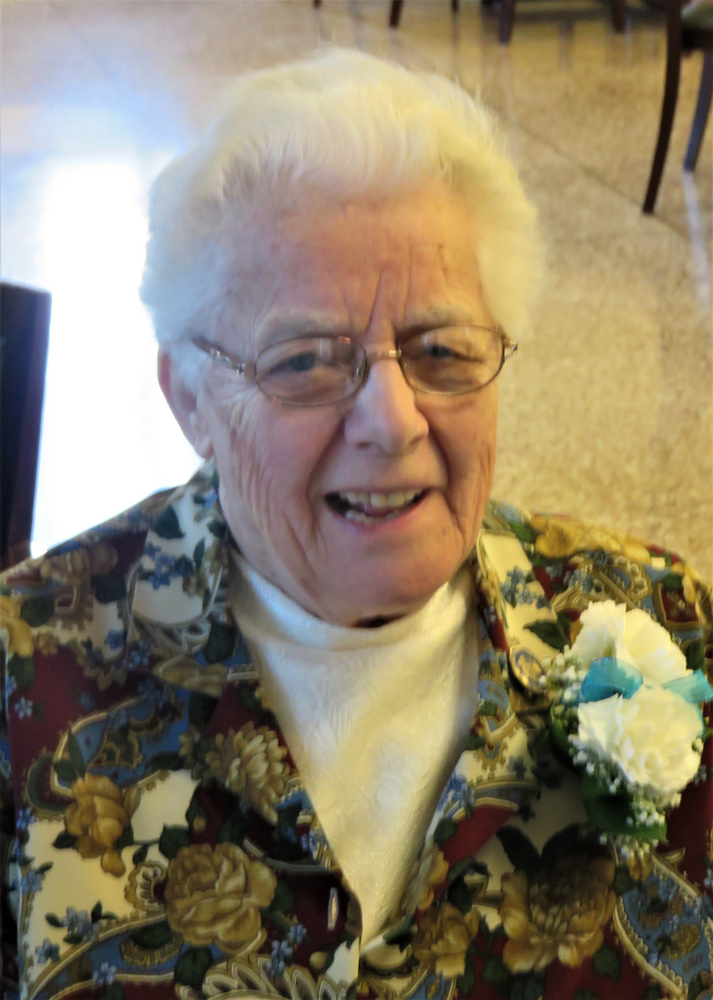 Obituary of Sister Marian Therese Boudreau, SC
Please share a memory of Sister Marian to include in a keepsake book for family and friends.
Sister Marian Therese Boudreau, (89), a Sister of Charity of Saint Elizabeth, died April 26, 2022 at home in Manchester, NJ.
Sister Marian Therese was born in Newton, Massachusetts, the daughter of Dominique and Emma (Champagne) Boudreau. She entered the Sisters of Charity on April 2, 1951 and was a member for 71 years.
Sister Marian Therese graduated from the College of Saint Elizabeth, Convent Station, New Jersey with a B.A. degree in French and from Seton Hall University, South Orange with an M.A. degree in French. Sister Marian Therese was an Educator in New Jersey; she taught at the elementary and secondary levels. Sister Marian was a teacher at Marylawn of the Oranges, South Orange, St. John School, Paterson; St. Aloysius School, Newark; St. Mary's High School, Jersey City, and East Orange Catholic High School, East Orange. Sister Marian served for many years at St. Mary's Parish and School in Dumont, first as Associate Director of Religious Studies and then as Parish Catechetical leader.
Sister Marian began her ministry to older adults as Administrator at Mother Seton Residence in Montclair where she served with her dear friend, Sister Margaret Maureen Hoffman. When Sister Marian moved to Manchester in 2001, she immediately began reaching out to her neighbors and to parishioners of St. John's Parish in Lakehurst. She provided spiritual support as a Eucharistic Minister, as well as assistance with practical needs such as transportation and shopping. She was well-known and loved by many. The very best in people was nurtured wherever she ministered.
Sister Marian Therese was predeceased by her brothers Richard, Art and Wilfred. She is survived by the Sisters of Charity, her sisters Elaine Ehrhart and Annette Plump, many nieces, nephews, grandnieces, grandnephews and many dear friends.
The wake for Sister Marian Therese Boudreau will be held at St. John's Church, 619 Chestnut Street Lakehurst, NJ, on Thursday April 28 from 3:00-5:00 pm. There will also be a wake at Holy Family Chapel, 2 Convent Road, Convent Station, NJ on Friday April 29 from 9:30-11:00 am followed by a Mass of Christian Burial at 11:00 a.m. Burial will follow in Holy Family Cemetery, Convent Station. Funeral arrangements are under the direction of S.J. Priola Parsippany Funeral Service, Lake Hiawatha, NJ.
In lieu of flowers, contributions to the Sisters of Charity Development Office, P.O. Box 476, Convent Station, NJ, 07961-0476, would be greatly appreciated.
To send flowers to the family or plant a tree in memory of Sister Marian Boudreau, SC, please visit Tribute Store


Share Your Memory of
Sister Marian
60 North Beverwyck Road
Lake Hiawatha, NJ 07034
S.J. PRIOLA PARSIPPANY FUNERAL SERVICE
FD#: Stephen J. Priola NJ Lic. No. 4071
Owner /Manger
Fax: (973) 335-4730
info@parsippanyfuneral.com