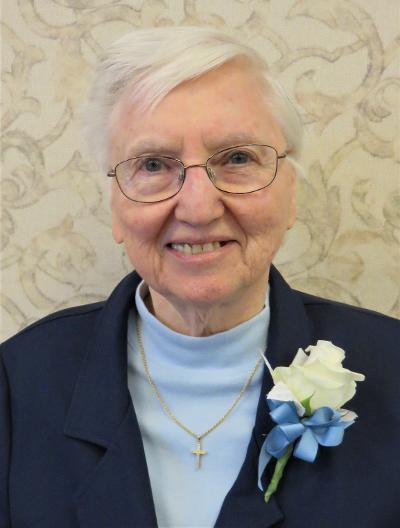 Obituary of Sr. Audrey Moloughney, SC
Please share a memory of Sr. Audrey to include in a keepsake book for family and friends.
Sister Audrey Moloughney, 87, (formerly Sister Maria Madonna), a Sister of Charity of Saint Elizabeth, died November 21, 2022, at Saint Joseph's Healthcare and Rehab, Cedar Grove, NJ.
Sister Audrey Moloughney was born in Jersey City, NJ, the daughter of Arthur and Catherine (Kane) Moloughney. She was the oldest of 10 siblings. She entered the Sisters of Charity on March 6, 1953 and was a member for 69 years.
Sister Audrey graduated from the College of Saint Elizabeth, Convent Station, NJ with a BA degree in English and from Jersey City State College, Jersey City, NJ with an MA degree in Counseling. Sister Audrey was an educator and an alcoholism counselor in New Jersey, New York, New Mexico, and the Virgin Islands. She served as a teacher at Sacred Heart School, Jersey City, Saint Philip Neri School, Newark, Our Lady of Grace school, Hoboken, Saint Mary's High School, Jersey City and as a teacher and principal at Saints Peter and Paul School, Virgin Islands.
She was project counselor at Pretrial Intervention Project, Jersey City, an alcohol therapist at Monmouth Medical Center, Long Branch and a consultant for alcoholism concerns at Saint Columba School and Parish, Newark. She worked as the director of Community Life Centers in Hohokus, New Jersey, Haverstraw, NY and Highland Falls, NY; and at the Convent for Renewed Life, Middletown NY. She was a program clinician for the MICA (mentally ill/chemically addicted) program at Mountainside Hospital, Montclair NJ and Trinitas Regional Medical Center, Elizabeth NJ. As a professional in mental health and addiction treatment, Sister Audrey brought many people to lives of renewed health and recovery. A skilled listener and faithful to the mission of the Sisters of Charity, Sister Audrey spent many years serving, as the Sisters of Charity principal purpose states, "those who through shame might conceal their necessities".
Upon retirement in 2013, Sister Audrey moved to the Convent of Saint Elizabeth, Convent Station, NJ and in 2021, due to increased health concerns, Sister Audrey moved to Saint Joseph's Healthcare and Rehab, Cedar Grove, NJ.
Predeceased by her parents and two siblings, Sister Audrey is survived by the Sisters of Charity; five brothers, two sisters, many nieces and nephews as well as many grandnieces and grandnephews.
The wake for Sister Audrey Moloughney, SC will be held in Holy Family Chapel, 2 Convent Road, Convent Station, NJ from 9:30 a.m. to 11:00 a.m. on Wednesday, November 30, 2022. The Mass of Christian Burial will follow at 11:00 a.m. Masks are required in-person. Burial will be in Holy Family Cemetery, Convent Station immediately following the Mass.
In lieu of flowers, contributions to the Sisters of Charity Development Fund, P.O. Box 476, Convent Station, NJ, 07961-0476 would be appreciated.
To send flowers to the family or plant a tree in memory of Sr. Audrey Moloughney, SC, please visit Tribute Store


Share Your Memory of
Sr. Audrey
60 North Beverwyck Road
Lake Hiawatha, NJ 07034
S.J. PRIOLA PARSIPPANY FUNERAL SERVICE
FD#: Stephen J. Priola NJ Lic. No. 4071
Owner /Manger
Fax: (973) 335-4730
info@parsippanyfuneral.com